The Color Illustrations of Rumiko Takahashi
by Dylan Acres

January 21, 2007



Urusei Yatsura | Maison Ikkoku | Ranma ½ | Inuyasha
Kyokai no Rinne | Mermaid Saga | One Pound Gospel | Short Stories
Complete Color Page Listing



An Introduction to Color Illustrations

Have you ever opened up your newly purchased copy of Ranma ½ or Inuyasha and noticed that the first few pages of a chapter look a little different? Not quite as crisp perhaps, or slightly photo-copied, and that after a page or two everything goes back to looking normal? Well it isn't a printing error, what you're looking at are black and white versions of what used to be Rumiko Takahashi's original color artwork.

For those who may not know, Takahashi's works are published in weekly, single chapter installments, usually in Shonen Sunday. Every week, an average of two series are chosen to have their first few pages rendered in full color. Because roughly twenty-five series are published in a magazine like Shonen Sunday every week, this means that a series like Inuyasha may only get four chapters of color artwork over the course of a year.

In most cases, the color artwork is only available in the cheap, weekly magazines. It is not reprinted in the collected tankobon editions. This causes the original color artwork to become quite rare, as the magazines it is originally published in are considered disposable and are usually thrown away after being read. Midway through our fandom, the webmasters of Rumic World happened to obtain some of Takahashi's original color artwork. Thus began our quest to catalog and collect these elusive illustrations.

Urusei Yatsura

The best way to examine Takahashi's color art is to go chronologically, and so we shall begin by examining Urusei Yatsura. For collectors of her original color artwork, Urusei Yatsura is without a doubt the most difficult of her series to find color pages for.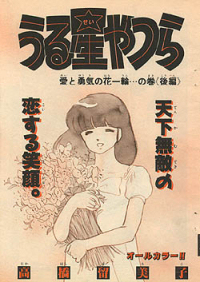 Beginning its serialization in Shonen Sunday in 1978, Urusei Yatsura was given numerous color tinted pages, in fact roughly ten percent of the chapters were colorized in some way. Unfortunately, virtually none of the chapters were what fans nowadays think of as "full color" pages. At this time, Shonen Sunday featured color tinted pages. Instead of the normal black and white pages that the average chapter has, these "color tinted" pages featured three colors, black, white and red. Using three colors allows greater freedom within the illustrations, as Takahashi would implore the addition of reds to highlight skintones and backgrounds.

That being said, color tinted pages are better than not having any colors to look at, but unfortunately for fans of the series from the late 70s to mid 80s Shonen Sunday didn't spend the time or money on devoting full color artwork to any of their series, even if it was a phenomenal success like Urusei Yatsura. This means that virtually all of the color chapters that Takahashi produced were in the more limited "color tinted" style, rather than full color pages. Pictured at right is the title page for chapter 348 "Ai to Yuki no Hana Ichi-rin; Kouhen" (Love and Valor of the Flower Petal - Part 3). Published a few months before the end of the series, as you can see, Takahashi was still limited to the tri-color tinted style. However Takahashi's skill had advanced and she had begun using her trademark watercolors to add detail to areas in Shinobu's hair, dress and to provide warmth to the background.

Of course, that's not to say that every chapter that had color was color tinted. The holy grail for Urusei Yatsura fans are the two chapters in which Takahashi provided full color illustrations, chapter 103 "Kusuri Kosen" (Side Effects) and chapter 136 "Kurama Futatabi" (Kurama Returns). These are the only two documented chapters of Urusei Yatsura that are known to have even a few full color pages.

While Urusei Yatsura has a fair amount of chapters rendered with color tinting, the age of the series makes it difficult to find the original weeklies in which the pages appeared. For color page completists or just fans of Takahashi's earliest series, finding color pages of Urusei Yatsura (particularly chapters 103 and 136) is notoriously difficult. Rumic World has very few Shonen Sunday's from this time period in our archive, and what we do have is limited to color tinted art.

Chapters with color art: 37 out of 366 chapters.


Maison Ikkoku

As Takahashi was writing and illustrating Urusei Yatsura every week in Shonen Sunday she was asked by her editors to create a new serial for the debut of Shogakukan's new magazine, Big Comic Spirits.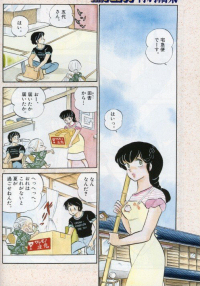 As was the case with Urusei Yatsura most of the colored pages in the early chapters of Maison Ikkoku were tinted rather than rendered in full color. However perhaps because Big Comic Spirits was a brand new magazine and Shogakukan was eager to please their new readers it featured full color pages of the series by chapter 3 "Katte ni Seiya" (Suit Yourself, Santa). The sheer amount of color artwork, both tinted and full color, that Takahashi provided for Maison Ikkoku is somewhat amazing considering she was also meeting weekly deadlines for Urusei Yatsura. Originally Maison Ikkoku was only published as a monthly but eventually went bi-monthly. This may have allowed Takahashi the time she needed to produce the amount of color artwork she did for the series, as almost fifty percent of the chapters had at least one color page in them.

Unlike any of Takahashi's other series, when Maison Ikkoku was collected into tankobon format, the first chapter of each book was re-printed in its color tinted format. This makes an excellent starting place for fans who are interested in collecting Takahashi's color artwork, as you are guaranteed fifteen color tinted chapters by purchasing the fifteen tankobon that comprise the series. If one wants full color pages then that is slightly more difficult, but not nearly as hard as one might think. Maison Ikkoku has been reprinted numerous times in a variety of formats, and it is in this myraid of formats that the collector can easily amass full color chapters from various points in the series. The six volume soushuuhen collection featured gorgeous full color reprintings of chapters 47 Kissu no Aru Jokei (The Kissing Scene) and chapter 59 Umeshu Baba (Granny's Ol' Plum Wine). At left you can see an example of one such page, reprinted on high quality paper, from chapter 59. Another good alternative for Maison Ikkoku color pages is the 2005 Big Comic Compact release of the series. These cheap, magazine-type editions actually contain numerous full color reprints of the color pages. Unfortunately this fifteen volume edition went out of print quickly and has become hard to find, let alone import. Because of this Rumic World has yet to obtain any copies to verify exactly which color chapters were re-printed.

Maison Ikkoku fan's can feel fortunate that the series received more color artwork than Urusei Yatsura and the pages that were done in full color have been re-printed in various formats. If one wants to begin to collect Rumiko Takahashi's color artwork, Maison Ikkoku is the easiest series to start with, although completing the set may prove difficult because of low print runs on various reprints.

Chapters with color art: 65 out of 126 chapters.


Ranma ½

By September 1987 when Shonen Sunday printed color pages for a series, they were most often full-color. For the most part, color tinted artwork was a thing of the past.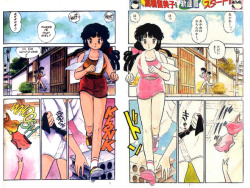 Around this time Shonen Sunday published color pages for two different series each week. One series would be published at the front of the magazine and receive "front color" pages, while another series would be published in the middle of the magazine and receive "center color" pages. A series that earned "front color" pages would generally have three or four of its pages in full color, while a series that received "center color" pages may only get one or two full color pages.

Ranma ½ was unique in that when it was originally released in the United States in 1992 Viz colored all of the artwork in the first six chapters in hopes of attracting a more mainstream American comic book audience. On the right is a side-by-side comparison of chapter 1 "Ranma ga Kita" (Here's Ranma!). Viz's recolored and flipped version is on the left alongside Takahashi's original watercolored page on the right. Click on the image for a more detailed view.

Ranma ½ like Urusei Yatsura before it, had almost ten percent of its chapters published with some color pages contained therein. Because of Ranma ½'s more recent publication date, issues of Shonen Sunday with color artwork are comparatively easier to find. Rumic World has managed to obtain approximately half of the color artwork released for the series over the course of the last seven years. None of the series color artwork has been reprinted with two exceptions. The first chapter's entry in the online Shonen Sunday Museum contains all of the chapter's original color artwork. Additionally, the Ranma ½ Memorial Artbook contains two color pages from chapter 405 "Gekkaja no Chikara" (The Power of Gekkaja) and the color title page from chapter 407 "Saisho-wa Ranma to Akane" (The Final Chapter).

Chapters with color art: 33 out of 407 chapters.


Inuyasha

One of the easiest of Takahashi's works to collect color pages from for its era, Inuyasha debuted in 1996, just as the internet boom was occuring across the globe.


At right is an example of Takahashi's color artwork from chapter 205 "Yoake" (Sunrise). One can see how the evolution of her skills with watercolors when compared to some of her earlier works. While the color illustrations were numerous at the beginning of the series, as the years passed Inuyasha received less and less color artwork. Within its first one-hundred chapters the series was given thirteen color chapters, while within the last hundred chapters only 8 chapters have been in color.

Thanks to the global popularity of Takahashi's works Inuyasha received world-wide attention upon its debut. It was released almost simultaneously in Japan and the United States, and its weekly chapters in Shonen Sunday were translated instantly by fans as they were released. Webmasters such as Chris Rijk archived the color artwork from each chapter as it was released, allowing fans who had no way of obtaining Shonen Sunday themselves to collect the full color art from the series. Additionally, Shogakukan relased two artbooks for the series which contain all of the color artwork from the series up to chapter 244 "Nakama no Inochi" (The Lives of One's Companions). The publication of these two books as well as the internet's ability to archive virtually all of the chapters releases on a weekly basis have made Inuyasha's color artwork easily accessable to a mass audience. This is the perfect series with which to begin your collection of Takahashi's color illustrations. Rumic World has managed to complete its collection of Inuyasha color artwork.

Chapters with color art: 59 out of 558 chapters.


Kyokai no RINNE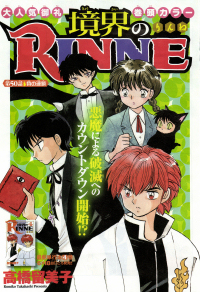 Debuting in 2009, fans of Kyokai no RINNE were in for a treat, as Viz licensed the series for simultaneous Japanese/English release. Within 24 hours of the chapter appearing in Shonen Sunday on the newstands of Japan, American readers could view the same chapter translated into English for free. For fans of Takahashi's color work this meant easy access to the original chapters in color, something that would not be reprinted in the graphic novel editions to follow. Takahashi's coloring style also began to change during this time period. Chapter 50 featured a computer generated background, marking Takahashi's first known foray into the use of computers with her artwork.

Kyokai no RINNE followed the trend of Takahashi's earlier series as being front loaded with color pages. In its first year of publication the series had eight chapters with some color artwork, more impressive when noted alongside the fact that Takahashi took some unexplained time off during her first year of publication, allowing fewer chapters to be published, but more color for the chapters that were released.

Chapters with color art: 37 out of 298 chapters.


Mermaid Saga, One Pound Gospel, & Short Stories

Because of the shorter length and infrequent publication of Takahashi's Mermaid Saga, One Pound Gospel and her short stories virtually every chapter contains some color artwork.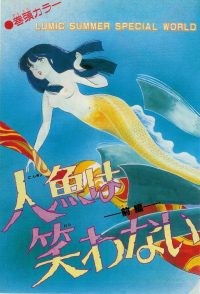 Most of the early Mermaid Saga chapters were published in special editions of Shonen Sunday. These chapters were later collected in full color in the two volume wideban editions: Mermaid Forest and Mermaid Scar. This makes the early and middle chapters fairly easy to find. The later chapters, however, were only collected in the tankobon edition and were not reprinted in full color, making them more difficult to find. Additionally the special edition Japanese release of the Mermaid Forest TV anime contains a booklet which collects the color illustrations from the entire series. Rumic World has managed to complete its collection of Mermaid Saga color artwork.

Chapters with color art: 12 out of 16 chapters.

Compared to Mermaid Saga a series of similar length, One Pound Gospel's color artwork is much more difficult to collect. The collected tankobon of the series did not reprint the original color pages. To make matters more difficult, Young Sunday, the magazine that One Pound Gospel originally appeared in, frequently runs pictorials of sexy, young models. These photographs can make the magazines highly collectible and drive the prices up, making certain issues harder to obtain.

Chapters with color art: 18 out of 37 chapters.

Early in her career, Takahashi published her short stories almost exclusively in Shonen Sunday Extra. In the middle part of her career she ventured out and published her works in various magazines and genres. Many of the magazines during this era did not have the high print runs of Shonen Sunday which makes them highly sought after. Now Takahashi publishes one short story a year, usually in February in Big Comic Original. It is these later works that have been collected into the three wideban editions commonly known as Rumic Theater. While not all of the stories that originally had color artwork received reprinted color pages, most did. With the release of the Rumic Theater wideban Takahashi's earlier short stories from Shonen Sunday Extra were recollected into two "Masterpiece Collection" wideban as well and had their color artwork restored. As with Mermaid Saga when the anime series Rumiko Takahashi Anthology was collected into a boxset in Japan, its special edition release came with a booklet collecting the color artwork of all the stories featured as episodes.

To continue on to the Complete Color Page Listing, click here.