Kyokai no Rinne at Tokyo Big Site
by Megan Smith
April 11, 2015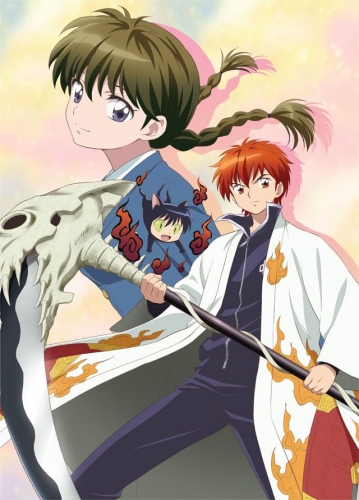 When NHK first released broadcasting information for the anime adaptation of Kyokai no Rin-ne, I thought "sometime in the Spring of 2015" would be a few weeks or even a few days shy of my time in Japan. My luck is only a few notches higher than Rinne's to begin with so I kept my expectations fairly low. The amount of times that NHK and Shogakukan hadn't let me down this semester resulted in several occasions where I nearly flung myself from my chair with excitement or cheered loudly enough to interrupt the quiet I'm sure my neighbors were enjoying. At first I was convinced that the online promotional trailer would be the extent of advertising that NHK gave Kyokai no Rin-ne, but I was relieved to be wrong. And, as it turned out, where our red-headed sort of shinigami was concerned—well, I somehow managed to hit a jackpot.

There were two events featuring Kyokai no Rin-ne before April forth: Anime Japan 2015 (March twentieth through the twenty-second) held at Tokyo Big Sight and the Shonen Sunday Festival (March twenty-ninth) held at Pacifico Yokohama. Both events featured a panel and exhibits, but only the Shonen Sunday Festival sold Kyokai no Rin-ne merchandise. Although I wasn't able to score a ticket for the panel at the Shonen Sunday Fest, I was more than content having won my way in to Anime Japan 2015's special event. The panel was set up in Q&A fashion and Ishikawa Kaitou, Inoue Marina, and Kimura Ryohei were the guests. I was able to get the big picture of what was being discussed, but wasn't able to grasp all of the little details that formed it, unfortunately. Regardless, if you can imagine the way that Rinne would feel if given ¥2000—no strings attached—you can imagine how happy I was to be in the same room as Inoue, Ishikawa, and Kimura. The three had contagious laughter. From what I understood, each seiyuu discussed their respective roles and Rokumon, their auditions, and I'm positive that they were talking about food at one point. Towards the end of the session, three signed promotional posters were raffled off and while I might have been lucky enough to get in, I wasn't lucky enough to win one of those posters.

Fast forward a week later and I found myself walking into Pacifico Yokohama absolutely overwhelmed that I could actually get my hands on Rinne related goodies (clear files, t-shirts, themed food, and screen cleaners); just slightly freaking out over the fact that while I wasn't able to attend this Kyokai no Rin-ne panel, Yamaguchi Kappei and Yukino Satsuki were still under the same roof at the same time as me; and overjoyed to get even closer to the display of Rinne's Haori of the Underworld and shinigami scythe. In addition to displaying his costume, the exhibit showcased character sketches and the script for the first episode of the anime. Fast forward nearly another week and I was at a friend's house, cracking open a drink, and letting out an eager "Kanpai!" as young Sakura Mamiya took to the screen with her questions for Tamako. I've been following Kyokai no Rin-ne since it was released back in 2009 and I was pretty young then so as I'm beginning to grow into an adult it almost feels like Rinne has grown a long with me. The only things that seem not to have changed between then and now is Rinne's financial state and my excitement towards anything related to his world's success.


| | | | | |
| --- | --- | --- | --- | --- |
| Rinne Panel Stage | Anime Japan 2015 Showcase Exhibit | Promotional Art | Sakura Soda With Rinne Coaster | Cosplay Items. |
| | |
| --- | --- |
| Signed Rumiko Takahashi Illustration | Showcase from Shonen Sunday |