Six years after Kyokai no Rinne began its serialization in Weekly Shonen Sunday in 2015 the its anime debuted. At 5:30 on Saturday night, April 4th, fans all over the world finally got to see Takahashi's latest series being its animated adaptation on NHK's E Tele channel.

2015
A Long Wait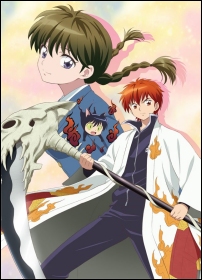 While manga fans are used to waiting with bated breath for their favorite series to get an animated adaptation, fans of Kyokai no Rinne had an exceptionally long road to seeing their favorite series in motion. Urusei Yatsura received an anime in three years, Maison Ikkoku after six years, Ranma ½ in two years, and Inuyasha in four years. Kyokai no Rinne took six years to get an anime, and unlike when fans of Maison Ikkoku could enjoy Urusei Yatsura as they waited for the production team to transition to the new series, Takahashi fans had no new animation to enjoy in the interim.
As the internet domain for Kyokai no Rinne's anime was registered on October 29th, 2014, by mid-November the series was finally announced as an anime, and the staff was revealed. The series was announced as the work of Brain's Base and three exectuive producers: Masahiro Nojima, Atsuko Kashiwagi, and Rui Sawaki. Nojima was resposible for producing two series of Phi Brain - Kami no Puzzle and two series of the Shonen Jump hit, Bakuman. Atsuko Kashiwagi produced the Tweleve Kingdoms television series and Moshidora while Rui Sawaki had only had two credits to his name before he produced the show... Chibi Devil and the Professor Layton and the Eternal Diva film. The series was directed by Seiki Sugawara, who at that point had directed episodes and worked on storyboards for series as varied as D.Gray-man and Kids on the Slope but had only directed one series previously, D-Frag!. Another relative newcomer was Akimitsu Honma, who handled the musical score. Honma had contributed theme song arrangements to a fwe series, but the only other series long score in his oeuvre was the two episode Ai no Kusabi from 1992. Rounding out the core staff was Kazuhiko Tamura as character designer. He had contributed designs to Gunparade Orchestra and Kimi ga Nozomu Eien ~Next Season~ while working as an animator on both Urusei Yatsura: Beautiful Dreamer and Inuyasha: Affections Touching Across Time films.