Kyokai no Rinne began serialization in 2009, following nearly a year after she wrapped up her longest running series, Inuyasha. Weekly Shonen Sunday was busy celebrating their 50th anniversary at the time of Kyokai no Rinne's debut, and Takahashi herself was celebrating her 30th anniversary as a mangaka, two factors which both contributed to a significant amount of fanfair surrounding the debut of this series.

1. Weekly Serializations
in Shonen Sunday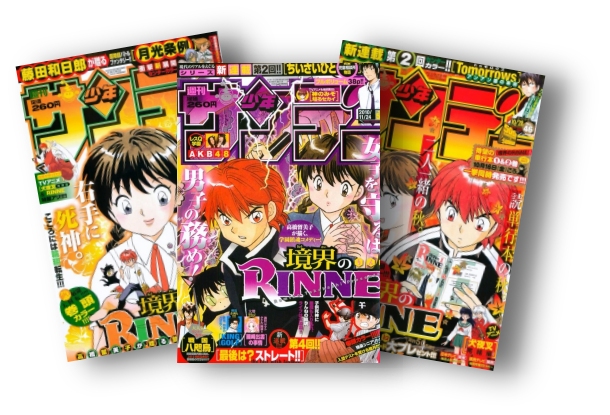 Rumiko Takahashi has published her work in Shonen Sunday since the beginning of her career in the late 1970s. Kyokai no Rinne was first published in Shonen Sunday 2009 Vol. 21/22, a double issue. Urusei Yatsura, Ranma ½ and Inuyasha all ran in this weekly magazine during the 1970s, '80s, '90s and 2000s. Takahashi also semi-regularly publishes her work in other Shogakukan owned magazines such as Big Comic Spirits (Maison Ikkoku) and Young Sunday (One-Pound Gospel). Each week, approximately 18 pages are published each week per chapter. Up to 21 other manga stories are published each week alongside Kyokai no Rinne, some of the most notable that ran concurrently were Detective Conan by Aoyama Gosho, Cross Game by Mitsuru Adachi, The World God Only Knows by Tamiki Wakaki and Major by Takuya Mitsuda.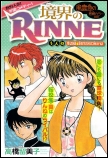 Each week a different artist is commissioned to do the cover and the first few pages which are done in color. With the exception of artbooks, these color pages are usually never reprinted unfortunately. These days many artists use computers to color their work, but Rumiko Takahashi has stated she doesn't own a computer. She primarily uses watercolor for her coloring work.



2. Tankobon

A few months after a title has been published in Shonen Sunday, they are collected into a small graphic novel called a tankoban. As a series gets older it is sometimes collected into other formats such as wideban, bunkoban, or shinsoban formats.



3. English Language Editions

For the first time ever a manga series was published concurrently in Japanese and English, and this was the series that first introduced that possibility. Each Wednesday, when Kyokai no Rinne is published in Shonen Sunday it is posted up a few hours later in English at The Rumic World.