Ranma ½ had a handful of specials that were only available through videos, or being a member of the Kitty Animation Circle, the fanclub for the production team that created Rumiko Takahashi's anime prior to Inuyasha when she took her anime work to Sunrise. These specials are extremely rare for the most part.
---
November 7 and 21, 1990
Extra Songs

This was comprised of original music videos developed for the Hot Songs Contest album. This was one of the most widely available of the specials released. Clips of the music videos are available in the lyrics section. The first part was released on November 7, 1990, and the second was released November 21 of that same year. When they were later released on DVD both volumes were placed on one disc.
August 19, 1995
DoCo Music Video

This was a collection of the opening and ending OAV themes performed by DoCo, the musical group made up of Ranma ½ cast members. Also included is an interview with the cast during their recording of the "Tunnel of Lost Love" OAV. The interviewed voice actors included: Kappei Yamaguchi, Megumi Hayashibara, Noriko Hidaka, Keniichi Ogata, Minami Takeyama, Kikuko Inoue, Ryunosuke Obayashi, Hiromi Tsuru, Rei Sakuma, Toshikiko Seki, Miyoko Asou, Koichi Yamadera, Hirotaka Suzuoki, Saeko Shimazu, and Shigeru Chiba.
August 30, 1992
Tendo Family's Annoying Acquaintances

Known in Japan as "Tendo-ke no oyoibidenai yatsura" this features a Nabiki narrated review of the series where she discusses various characters that the Tendo family has had to tolerate spliced with new animation of Nabiki hanging around the house, taking a bath, and wondering about the true identity of P-chan. It was available through the Kitty Animation Circle.
April 21, 1993
TV Titles

Like many of the specials seen here, this laserdisc was available through the Kitty Animation Circle. This contains all of the opening and ending animation and songs without the cast and crew information overlayed.

Chuugoku Nekonron Daikesson! Preview

A video preview of the first movie shortly before it's Japanese release. The video was available through the Kitty Animation Circle, and showed a few of the highlights of the film.
Early 1993
1994 Music Calendar

Unlike the 1991-1995 calendars, the 1994 editions of all Rumiko Takahashi series were released on VHS. Series clips were shown along with the music that freeze-frames when a new move is shown. The writing at the bottom says "Anything-Goes Martial Arts Technique/Trick Picture Scroll". This was put out by the KAC (Kitty Animation Circle), and so it wasn't commercially available in stores.
March 3, 1995
Huge Battle! 29 Unteachable Fools

This special, known in Japan as "Batoru Kaiibai 29 Hitou Korinai Yatsura," was available through the Kitty Animation Circle making it a difficult item to come by. It contained clips from twenty-nine of Ranma's most memorable opponents from the television series.
May 1, 1993
Best of Memories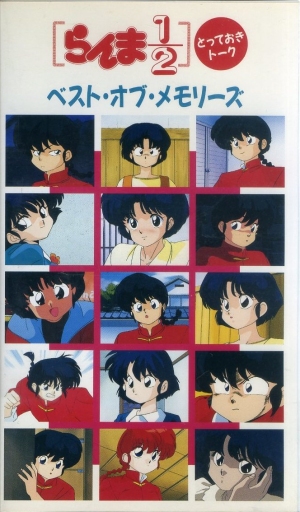 This is another collections of "Best Of" moments from throughout the series. This one focused on romantic moments, and shifted between the scenes with interviews with Kappei Yamaguchi, Megumi Hayashibara and Noriko Hidaka. Also interviewed are Rei Sakuma, Koichi Yamadera, Saeko Shimazu, and Yuuji Mitsuya. This was released in May of 1993.
December 9, 2011
Ranma ½ Drama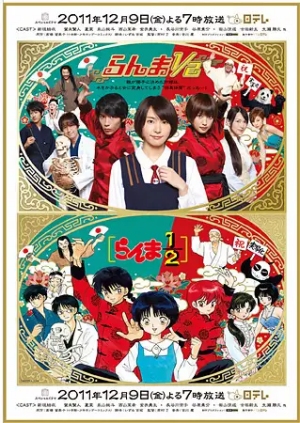 This ninety minute live-action special was a retelling of the early manga volumes interwoven with new scenes and an original villain. You can read a full summary, cast and crew list of the live-action special here.