Rumiko Takahashi vs Atsushi Kamijo
Taken from: Young Sunday 1987 Volume 18
Translated by: Laura Arias-Moreno
ONE POUND GOSPEL: Rumiko Takahashi
SEX: Atsushi Kamijo
In '88,
Young Sunday
will become the flame of the new age of comics, with a statement from two top authors starting their engines at full speed! The first bullet is
One-Pound Gospel
by Rumiko Takahashi in the 1st issue, and the 2nd bullet is
Sex
by Atsushi Kamijo, which will begin serialization in the 3rd issue. In this interview, both big authors with explosive hearts will be talking among themselves about their burning souls!! Hear them burning red hot!
It started in
Young Sunday
in the summer of '87, a masterpiece about boxing was created in a double issue consisting of 60 pages.
Kosaku Hatanaka, a member of the Mukoda Gym (Featherweight Division, minus one pound), 2 victories (2 KOs) and 4 loses, a guy unable to consider his failures, and a nun, Sister Angela, from a church next to the gym take part in this sports comedy about love and endurance. Looking forward to '88, what (unknown) territories will be shown with this new work even from an even higher level? On sale next December 25th.
I think that there are no cool guys around.
That's why I want to draw them.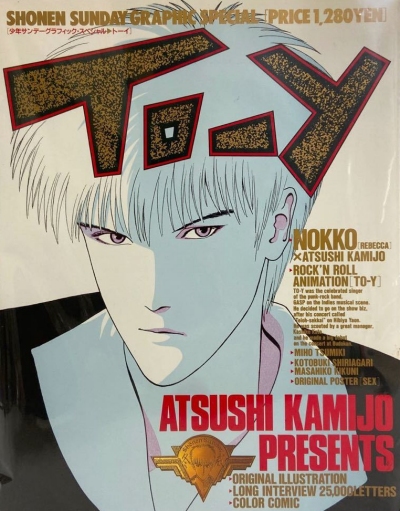 Both authors find it impossible to be satisfied with a small level story, and create a lot of motivation!
It can be felt in your skin that '88 is near, at sunset on the second floor of a crab restaurant. The conversation between Takahashi and Kamijo is starting to get enlivened quietly while they look downwards eating their crabs.
Takahashi:
The serialization of
To-y
(published in
Weekly Shonen Sunday
) has finished.
Kamijo:
March of '87. It has been more than half a year already. When you remember the flavor of a long serialization, you cannot be satisfied with a small job. That is the reason why I want to start the serialization for
Sex
as soon as possible. Basically I haven't settled anything yet, but I'm really motivated (laughs).
Takahashi:
I'm a big fan of
To-y
. The "ninawabushi" (sob story) atmosphere running through its roots are so good. I love the fact that when something is decided it goes all the way without hesitating. It's good to see that the characters are built with a lot effort.
Kamijo:
Aw, thank you. I feel so embarrassed (laughs). The truth is I came across some fan letters for you, and well, sorry to say this but I took the chance to read them.
Urusei Yatsura
has left such a big impression on fans. They carry the
Urusei Yatsura
universe within them.
Takahashi:
It is marked by the reaction of the fans, but at the end, I think it shows what I wanted to draw. Not what I wanted to show.
Kamijo:
It's the same to me, I am writing in
Sex
simply based on what I feel like drawing, not what I couldn't draw in
Toy
. Instead of hesitating if it will be well-received or not, if I don't draw it the way I want I cannot advance.
Takahashi:
The characters chart from
Sex
at the back of the
Shonen Sunday Graphic Special- To-y
… to what extent is it true...
Kamijo:
Well, its true to some extent. Concretely, currently I don't have them ready so far. I want to draw something cool and vague. Personally I prefer drawing guys, recently there are no cool guys as protagonists. Certainly, when I say "cool" I mean a lot of things, but in
Sex
I want to draw cool guys with a lout and good-for-nothing image.
Takahashi:
I feel like a spy-in-the-field asking this question, but how many chapters have you planned for
Sex
? (laughs)
Kamijo:
This is exactly what I don't know (laughs). I have the feeling that it will be fairly long in a progressive way. What about you?
MAKING DRAWINGS AS INTERESTING AS MUCH AS POSSIBLE. THAT'S HOW THE CREATIVE SOUL OF AN ARTIST GETS RED HOT.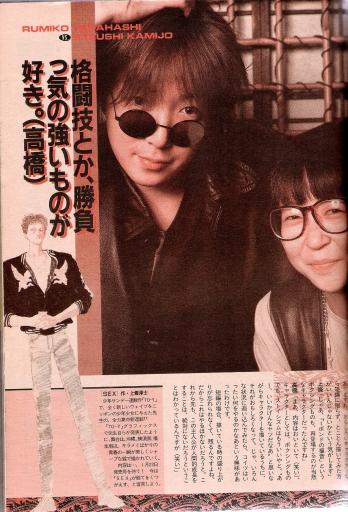 Takahashi:
As long as I am able to.
Kamijo:
When you have a short story, what do you think is more important? The story or the characters?
Takahashi:
I usually give priority to the story, but when I am about to finish the work, there are times when the characters don't work in it and it make it difficult for the story to advance. In case it's an interesting character I think the best you can do is continue drawing it all out regardless of it being a short story or not.
Kamijo:
In the case of
One-Pound Gospel
, since it has a boxing theme, it would be logical that the characters would be appearing again.
Takahashi:
Well, yes, leaving the contents theme aside (laughs), as characters they have enough stoicism, even for boxing.
And it's precisely because while you are drawing it, you think "Aw, I can't stand this character" why you find it interesting, and that interest pops out when you put them in many kinds of situations and you wonder how they will react. In the case of a short story, you cannot forget that feeling of exaltation while you are drawing it, it must remain. That is why I don't think anything else will do. Although I think is impossible that his main character will mature as a human (laughs)."
SEX- BY ATSUSHI KAMIJO
It is the work being serialized with all his efforts by Kamijo-sensei, who has brought a new wave for girls and boys in Japan, who serialized
To-y
in
Shonen Sunday
. About the plot… Wait for the issue on January 22nd. For now, let's say that it will turn everything upside down.
As pointed out by Kamijo-sensei in Shonen Sunday To-y Graphics, the setting is Okinawa, Fussa and Suga. It is drawn with sharp lines that show the shining of youth.
When you enjoy drawing something, you also want the readers to enjoy it.
The continuous changes in the comics' world cause Takahashi and Kamijo to change their approach continuously towards the future generations.
Kamijo:
I hardly play any sports and I have no interest on them, but the only one I would like to draw is boxing. Bodies are cool.
Takahashi:
Well, I would say that I like martial-arts or strong battles. I hardly play any sports either, I don't know what's funny about sports. I only understand the anger of losing (laughs).
Kamijo:
Are you aware about that within someone else's comic?
Takahashi:
Hardly any.
Kamijo:
I see.
Takahashi:
In the end you can only see your own work. It's logical, you are the one drawing it. You have to observe it, no one else can observe it and you have to expand it.
Kamijo:
I think I could read your works even ten years later. But the deadlines are hard. I had one case when serializing that was quite tragic. When I was drawing overnight I was saying I was going to quit (laughs). But you finish drawing it and then you sleep. You get up and you have to start thinking about next week's chapter.
Takahashi:
Eventually, it's like some kind of training for drawing, and you have no choice other than fighting with the serialization in the magazine.
Kamijo:
It may sound too obvious, but you can't draw if you don't enjoy it. It is hard, but you enjoy it because you like it. When you enjoy drawing something, you also want the readers to enjoy it.
Takahashi:
I agree with you, if they read it happily without thinking anything, that's the biggest compliment to to me.